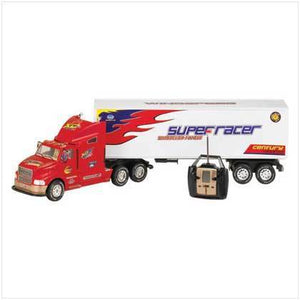 Wheeler RC 1:10 Scale with LCD
This 18 Wheeler puts the "big" in Big Rig! Kids of all ages will enjoy going on a long-haul journey with this 1:10 scale RC truck. The LCD remote control allows you to see where you're going as you make the truck move forward, reverse, or turn. It even lights up and makes real truck sounds! 9.6 volt battery charger included. May require additional freight charge. Not recommended for children under 3. Plastic. 50 1/4" x 9" x 14 3/4" high.
Item: 37652
<—Click on image to view larger photo.