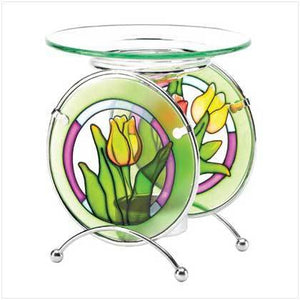 Tulip Stained Glass Oil Warmer
Bring the sights and scents of the garden indoors for a sweetly serene scene! Stained-glass tulip panels turn candlelight into a burst of kaleidoscope colors as the flame gently warms a clear glass dish of your favorite scented oil. Glass and metal. Candle and oil not included. 4 1/2" diameter x 5" high.
Item: 37891
<—Click on image to view larger photo.