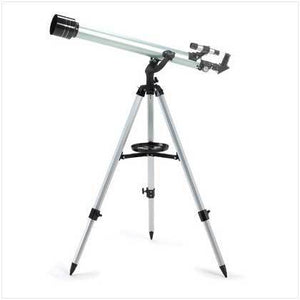 Telescope With Tripod
Expand your understanding of the universe with this powerful 60mm coated lens telescope, perfect for beginners interested in astronomy. With a focal length of 800mm (f/13), budding astronomers will be able to detect close-up details of celestial phenomena as well as terrestrial views of nature or the urban landscape.Includes aluminum tripod with slow motion control rod for easy vertical micro adjustment. 33" x 23 5/8" x 49 1/8" high.
Item: 38362
<—Click on image to view larger photo.